---
ROAST POTATOES
INGREDIENTS
-Spartan Spice
-8 to 10 Yukon Gold or Fingerling Potatoes
-2 tablespoons olive oil
-3 garlic cloves, crushed
METHOD
Peel and dice potatoes and place in oven dish with garlic and oil. Sprinkle with Spartan Spice. Add a cup of water (enough to cover the base of the potatoes). Cover with foil and place in oven at 180 degrees. Cook for 45 minutes. Prick with a fork, once soft remove foil and brown for 10-15 minutes, until golden brown.
Serve with Lamb Shasliks and Eggplant Salad.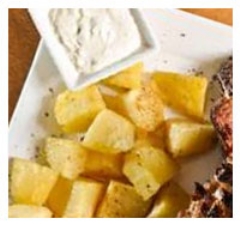 ---
EGGPLANT SALAD
INGREDIENTS
-Spartan Spice
-2 large eggplants (aubergine)
-2 tablespoons olive oil
-3 garlic cloves, crushed
-3 tablespoons chopped parsley
-2 tablespoons olive oil, extra
-4 large roma tomatoes, roughly chopped (or tinned diced tomatoes)
-1 tablespoon red wine vinegar
-1 teaspoon brown sugar
-150g fetta cheese, diced
-2 tablespoons greek natural yoghurt
METHOD
Pour oil into a large saucepan with crushed garlic. Cut eggplant into 1cm thick slices. Place the eggplant in a single layer in the fry pan. Brush with extra olive oil on top sides. Sprinkle with Spartan Spice. Cook each side on low to medium heat for 10-15 minutes and turn over. Once cooked, add tomatoes and sugar. Cook for a further 10 minutes. Remove from heat and stir in red wine vinegar. Add parsley and diced fetta cheese.

Serve together with Lamb Shasliks, Roast potatoes and yoghurt.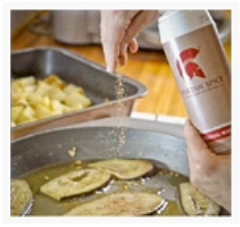 ---
LAMB SHASHLIKS
INGREDIENTS
-800g of lean Leg Lamb or Back Strap diced (200g per shashlick)
-Spartan Spice
-¼ cup olive oil
-¼ red wine
– 2 garlic cloves, crushed
METHOD
Place diced meat into a bowl. Combine quarter cup of oil and quarter cup of red wine and garlic.Pour over meat. Sprinkle Spartan Spice and marinate for at least one hour. (For best results marinate 24 hours). Skewer shashlicks and grill, continuously turning over to cook evenly.

Whilst the shasliks are cooking, begin to cook your eggplant salad.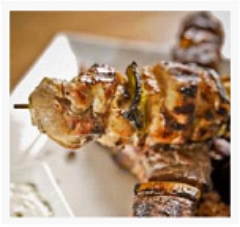 ---
LAMB SHASLIKS WITH ROAST POTATOES & EGGPLANT SALAD
INGREDIENTS
-Marinate meat night before or few hours before
-Prepare potatoes
-Prepare eggplant
-Cook potatoes first
-Then start cooking shasliks and Eggplant approx. same time
METHOD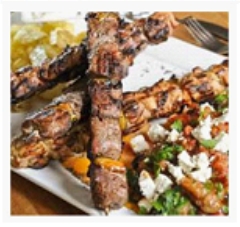 ---